A themed book tour through
Prism Book Tours
.
A Perfect Secret
(Rogue Hearts #3)
by Donna Hatch
Adult Historical Romance
Paperback, 348 Pages
December 14 2013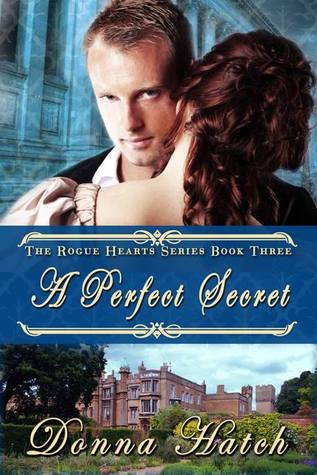 Desperate to protect her father from trial and death, Genevieve breaks off her engagement with Christian Amesbury and marries a blackmailer. After a year of marriage, she flees her husband's violent domination only to have fate bring her back to Christian. Just when she thinks she's started a new life of safety and solitude, her husband tracks her down, stalks her, and threatens everyone she loves.
Still brokenhearted over Genevieve's betrayal a year ago, Christian can't believe she's come back into his life--and worse, that she's done it on the anniversary of his brother's death, a death that haunts him. Though tempted to throw her back into the river where he found her, he can't leave her at the mercy of the terrifying man she married.
When her husband torments Genevieve and puts his family in danger, Christian will do anything to protect those he loves...anything except give Genevieve another chance to break his heart.
My Review
There is something sweetly divine about leaving the world of today and slipping into the world of the past with lords and ladies and all the society of the ton through the pages of a great regency romance.
Propriety that makes you yearn to see it broken to get to that kiss that is so deeply desired between the characters, but would be such a scandal.
This book adds the twist of a jilted lover, turned rescuer, turned true love...OH. SO. GOOD!
And what one woman will do to protect her family's name and reputation...becomes her own "perfect secret."
Don't miss out on this one!
It really is a GREAT READ!
My passion for writing began at the tender age of 8 and I've been hooked ever since. Of course, I also wanted to be an actress and a ballerina, but one out of three isn't bad, right?
In between caring for six children, (7 counting my husband), my day job, my free lance editing and copy writing, and my many volunteer positions, I manage to carve out time to indulge in my writing obsession. After all, it IS an obsession. My family is more patient and supportive than I deserve.
- Grand Prize:
$20 Amazon gift card and an ebook (INT) or print copy (US Only) of
A Perfect Secret
OR
The Stranger She Married
(winner's choice)
- 5 ebooks
of
A Perfect Secret
- Open Internationally
- Ends July 20th